Couple both ordained as Church in Wales priests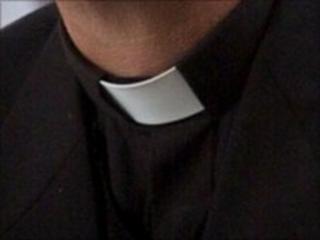 A married couple are looking forward to a new life as curates in two north east Wales parishes, after both being ordained as Church in Wales ministers.
Neil Kelly and his wife Deborah Swann are taking up their new roles after spending the last few years training together for the ministry in Cardiff.
They are believed to be the first couple ordained together in St Asaph' diocese.
The pair said they now hoped to support each other in their new jobs.
"I think it has been very supportive to have us going through it together, and I suspect that it is going to be supportive as we go through being curates," said Mr Kelly, who was a trained horticulturist before entering the church.
He admitted that to some it may seem odd to becoming a minister at the same time as his wife, but added: "It seemed to be a very natural thing to us.
"It is very unusual but I hadn't taken on the significance of it until now."
Mr Kelly will now turn his attention to tending the congregations of Llangollen, Trevor and Llantysilio, while his wife is the new curate in the parish of Gwersyllt.
However, it is not unusual for the couple to work together. They both met through their work with mental health patients at Broadmoor hospital, where Ms Swann was an occupational therapist.
"I think the experiences of working in that environment have helped me prepare for the challenges now in front of us," said Ms Swann.
But she admitted that she had not always seen herself in the church ministry, after growing up in what she described as a "clergy family" herself.
"I had tentatively thought about it but growing up as a clergy child had put me off a bit," she said.
"But in discussing it with Neil as he talked and questioned about what he was doing, it just prompted me to think about it more deeply.
"I just made me re-evaluate everything. It was the right time."
The couple were joined in their ordination by another new minister, the Reverend Adam Pawley at St Asaph Cathedral on Saturday, in a ceremony conducted by Bishop Gregory Cameron.
Bishop Cameron said: "Here we have three bright and enthusiastic young people who are keen to bear witness to their faith in Jesus, and I am sure that their commitment will inspire and encourage the life of the diocese."