Flood fears over Llanelli sewerage system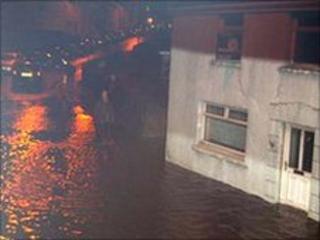 A Carmarthenshire family says it is living in fear of flooding and has blamed ageing sewerage systems for the problem.
David Warlow says his home at Dafen near Llanelli has been hit three times since 2008 - even though the property is not near the sea or a river.
Welsh Water said it is examining the area's waste water network.
Carmarthenshire council said it is considering loaning "flood gates" to residents while the issue is solved.
Mr Warlow said his home at Bryngwyn Road in the village was first hit by flooding in November 2008.
"I was up to my shins in water," he recalled.
"I emptied my black bin hoping to bail my garden out - but you could hear the water cascading. There was no way to stop it.
"We lost everything."
Mr Warlow, his wife and three children, had to move into rented accommodation for eight months while flood repairs were carried out to their home.
In the following summer, while work was still being carried out on the home, the house was hit again, though sandbags stopped water entering the property.
'Nightmare'
Their home was under water again in January this year.
"I've been here nearly 14 years. You see a bit of surface water on the local playing fields, but not to this dramatic effect. I don't know what has happened to the area," said Mr Warlow.
"It is not just surface water, not just storm water. It is contaminated raw sewage coming into the properties.
"As a father, I have concerns for my children's' health.
"It's a nightmare - it's a total nightmare.
"We are living on pins thinking, 'when are we going to be affected next?'."
Welsh Water said it was responding to the issues in Dafen, and had already put in some measures to prevent more flooding.
A spokesperson said: "Based on the findings we have implemented a number of mitigation measures at the nearby pumping station in order to alleviate the flooding at this location.
"We are currently in the process of carrying out a more detailed investigation and analysis of the waste water network in the local area."
"Once this is completed we will have a better understanding of any additional works that may be required to implement a permanent solution to the flooding."
Old sewerage systems
But the local assembly member, Helen Mary Jones, said the issue was a wider problem for Llanelli and Wales.
"We've been victims of our own success a 100 years ago if you like, because of course some of Wales' municipalities were among the first in the UK to put in a sewerage system.
"But that means we've now got systems that are over a 100 years old.
"That means that when you get heavy rain, of course those pipes are overloaded."
She said she feared that the situation across Wales is "potentially going to get worse" as authorities look at where cuts can be made to things like maintenance budgets.
In the meantime, Carmarthenshire council has said it is considering loaning flood gates to Mr Warlow and residents in the area, which can be used to prevent surface water and sewage overflows hitting their homes.