Four UK soldiers killed in Afghan road accident named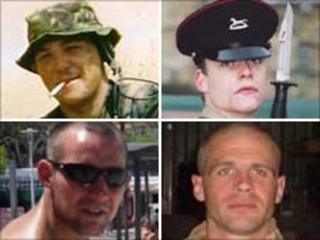 Four British soldiers killed when their armoured vehicle plunged into a canal have been named by the MoD.
Pte Alex Isaac, Pte Douglas Halliday and Colour Sgt Martyn Horton, from 1st Battalion The Mercian Regiment died alongside L/Cpl David Ramsden, from 1st Battalion The Yorkshire Regiment.
The soldiers, part of a police advisory team, were killed near Gereshk, Helmand province, on Wednesday evening.
Their Ridgeback vehicle left the road and landed in the Nahr-e Bughra canal.
The deaths of Pte Isaac, Pte Halliday, Colour Sgt Horton and L/Cpl David Ramsden have taken the total number of service personnel killed in Afghanistan since 2001 to 307.
Eighteen UK personnel have died this month, with nine of these deaths taking place in the past seven days.
'Family, Army, Liverpool'
The MoD named the four men as Prime Minister David Cameron confirmed he would like to see all British troops in Afghanistan return home before the next UK election.
"I want that to happen - make no mistake about it. We cannot be there for another five years having been there effectively for nine years already," he told Sky News.
Colour Sgt Horton, 34, from Runcorn, Cheshire, left behind a wife and a son.
His sister, Caroline, said: "Martyn lived for three things - family, Army and Liverpool. He loved fighting for his friends and family.
"He was a loving dad, brother and son; he touched everyone he met. We will miss his cheeky grin. He will be fondly missed by everyone he knew and sadly died doing the job he loved. Once met, never forgotten."
The family of L/Cpl Ramsden, 26, from Leeds, said he lived life at "1,000mph".
Twin sister Emma, sister Zoey, brothers Matthew and Jeremy and parents Shirley and Eddie, said: "Although we didn't see much of him due to Army life, when he arrived back his personality lit up a room and we knew he was home and we will miss him so much."
'Charm and humour'
Pte Isaac, 20, from the Wirral, was also remembered by his family.
His mother, Annette, said: "My beautiful darling son, who was a fighter and so brave, you will always be in my heart, my soul and my thoughts."
And Pte Halliday, 20, from Wallasey, Merseyside, will be remembered for "his charm, the special times together and his humour", his family said.
They added: "Dougie was always the life and soul of the party and will be missed by all. We are all extremely privileged to have shared his short life."
The accident that killed the four soldiers was not the first involving a Ridgeback falling into the Nahr-e Bughra canal.
L/Cpl Barry Buxton, 27, of 21 Engineer Regiment, died when a road collapsed and his vehicle rolled into the waterway on 3 May.
Defence Secretary Liam Fox said he had been saddened to learn of the deaths of the four soldiers.
"Their work with the Police Development Advisory and Training Team, bringing on the Afghan police force, is pivotal to the success of our operations in Afghanistan," he said.
"These brave men, committed to protecting the security of our country, will not be forgotten," he added.