Cromford taxi murder accused says he was a coward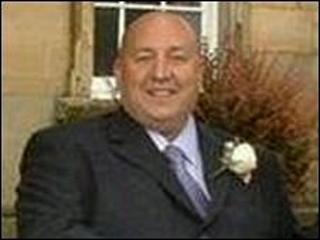 A man accused of killing a taxi driver in Derbyshire has told a court that he supplied an acquaintance with a gun because he was "a coward".
Colin Cheetham, 61, from Ripley, said a man called Geoff asked him for a gun to scare off a drug dealer.
He told Nottingham Crown Court he was at Cromford railway station the day Stuart Ludlam, 43, was shot, but did not fire the gun.
Stuart Ludlam, 43, was found dead in the back of his cab on 17 September.
Warning shot
The jury was told he met Geoff in a pub and was offered £50 to borrow a gun to threaten a drug dealer.
When Mr Cheetham was asked why he did not refuse to supply a gun, he said: "I'm a coward and went along with what was being suggested."
He said he had provided the gun with ammunition because he had been told the drug dealer might not take notice of the threats - and Geoff might have to fire a warning shot.
Mr Cheetham, who denies murder, said he took the pictures of the scene of the shooting because he was making a calendar of various railway stations.
Mr Cheetham added he had four telephones because he was diabetic and might need them in an emergency or if his car broke down.
He told the court he was interested in photography and shooting, and owned eight weapons.
The prosecution claims Mr Cheetham planned to lure a stranger to a secluded location to be killed.
The trial continues.