African Union warns Burundi politicians ahead of vote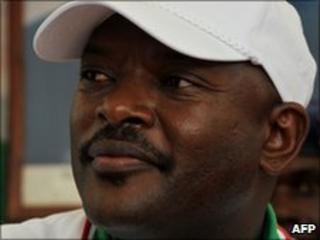 The head of the African Union has voiced concerns about conflict in Burundi, ahead of presidential elections on Monday.
Jean Ping appealed to political groups to avoid anything that might plunge Burundi back into ethnic violence.
The incumbent president, Pierre Nkurunziza, is the only candidate as all opposition candidates have withdrawn, alleging fraud.
One of the candidates, a former rebel leader, has also disappeared.
The BBC's East Africa correspondent Peter Greste says Agathon Rwasa is believed to be hiding in neighbouring Democratic Republic of Congo.
The election will be the second major vote since the end of the country's brutal 12-year civil war in which an estimated 300,000 people died.
Both President Nkurunziza and Mr Rwasa led mainly Hutu rebel groups fighting against the army which was dominated by the Tutsi minority.
Mr Rwasa refused to end the fighting when other warring factions set up a power-sharing government followed by elections in 2005.
He only led his National Liberation Forces (FNL) in disarming in April 2009 and was widely thought to be the key challenger Mr Nkurunziza.
Our correspondent says Mr Ping does not normally express concern ahead of African elections.
So for him to appeal directly to the nation's politicians suggests the situation is indeed worrying, he says.
In his statement, the AU head called on the opposition to use only legal means to resolve any dispute.
On Friday, police said an attacker hurled a grenade at the home of a local ruling party official in the capital, Bujumbura, injuring his son - the latest in a series of blasts that threaten to destabilise the country.