Elderly woman robbed in her own home in Northampton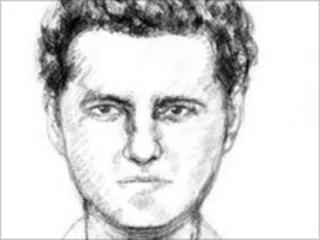 An artist's impression has been released of a man police want to speak to after a woman was pushed to the ground in her own home in a robbery.
The incident took place in Kingsland Gardens, Kingsthorpe, Northampton, when two men called at the elderly woman's home demanding money on Sunday night.
The pair stole items from the house, pushed the woman to the floor and stole her walking stick.
She sustained bruising as a result of the incident, said police.
The first offender was described as white, aged about 30, 5ft 6in (1.6m) tall and had a broad build.
He had short, dark wavy hair and was wearing a white open necked shirt and jacket, police said.
The second offender was also described as white, aged about 30, taller than the first, of average build and had short, tidy looking hair.
Officers have asked for anyone with any information about the incident to contact them.