Belfast bus tour operator thinks attacks linked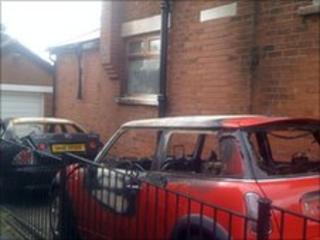 A Belfast city centre businessman believes an attack on the home of his follow director may be related to previous attacks on his company's property.
Robert Wilson, who has invested hundreds of thousands of pounds in an open top bus company, has vowed to keep his fleet on the road.
Sightseeing tour buses on the streets of Belfast have become a symbol of normality. With a record number of tourists now visiting Belfast, many opt for a bus tour to see the city's sites, past and present.
And as tourism grows so too does competition for the tourist pound. A number of different companies are now offering sightseeing tours in Belfast and many more may yet enter the lucrative market.
Peter Burns used to give tours in his black public hire taxi. He now works for one of the city's tour bus companies.
He said: "I have noticed that year on year, certainly over the past 10 years, there has been a major growth in this area.
"We are now getting tourists from literally across the world coming to Belfast so they are coming in large numbers."
But one operator has said he is being given a rough ride. Businessman Robert Wilson and a colleague spent £350,000 bringing the international City SightSeeing brand to Belfast.
Last March - only a month after they started - four of his vehicles were damaged by vandals who smashed their way into a garage in Newtownabbey.
Not long afterwards, his offices were broken into. Now details have emerged of an even more sinister attack which Mr Wilson believes is linked to the others.
"Our operations director and I were in Rome at the annual conference for City SightSeeing worldwide.
"We arrived on Sunday in Rome and during the night - Sunday night - in his driveway of his house in Belfast, both his cars, his Lexus and his wife's Mini were fire bombed and destroyed," he said.
"I think these attacks are related. I think there is commonality between these efforts and I think whoever is doing it sees us as a target.
"I don't think they are random."
Mr Wilson said he did not know who was behind the attacks on his company. He said he doubted it was paramilitaries and was not blaming his competitors in any way.
"I am not suggesting that we are being attacked by an operator or a competitor, I am not suggesting that, but there is a sinister set of people somewhere in this city who have been targeting us and it's painful, but we are still here and we are getting stronger actually."
Asked who he thought was carrying out the attacks, Mr Wilson looked puzzled and replied: "I would really love to know because I would really like to look into the faces of the people who set fire to those cars parked down the side of the house when my colleague's wife and their kids were in bed and the flames were lapping around the windows and burning the gutters off the house.
"I would really love to know and I don't know."
The tourism trade is a by-word for hospitality but for one company bringing an internationally recognised brand of buses here - the hospitality it has been shown remains in short supply.
But in spite of the attacks, City Sightseeing Belfast says it won't be forced out of business and intends adding more buses to its fleet - making its distinctive open top buses an even more permanent part of the city's landscape.