BA strike: Fresh offer made to cabin crew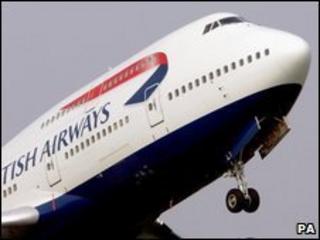 British Airways has tabled a fresh offer in an attempt to end the long-running dispute with cabin crew and avert possible further strikes.
The offer, made to the Unite union that represents cabin crew, includes changes to pay structures that the airline says address cabin crew concerns.
These include new "top-up" payments and two years of guaranteed rises in basic salary from 2011.
A ballot of cabin crew on future strikes was expected next week.
Unite had said a breakthrough in the dispute, which led to 22 days of strikes earlier this year, could halt the ballot.
BA cabin crew head Bill Francis said he "genuinely believed" the latest offer could end the dispute.
The offer was made following Acas-mediated talks between BA and Unite on Friday.
Pay offers
But Unite's joint general secretary Derek Simpson said he was "not at all optimistic".
"While we are not at all optimistic that this offer provides a basis for resolution of the dispute, we will of course be considering it and consulting with our cabin crew representatives before making a formal response," he said.
BA said the new offer contains two changes on pay, including two years of guaranteed rises in basic salary from February 2011.
There will also be a new top-up payment to ensure that existing cabin crew will still receive a minimum amount in route allowances.
New cabin crew being recruited in the autumn on new contracts will not have the same guarantees.
An earlier offer to increase staffing levels on some flights in exchange for a reduction in allowances has been withdrawn.
The dispute with cabin crew erupted last year when BA announced plans to cut the number of cabin crew operating on Heathrow long-haul flights.
Unite complained that the move amounted to contractual changes that they had not been consulted on.
But the ballot due next week is in response to BA's handling of the previous strikes, including the withdrawal of travel concessions for striking workers, and disciplinary action taken against some union representatives.