Road closures across Cardiff for events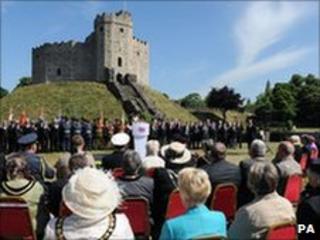 Police say they expect visitors to Cardiff to have "a great day" as the Welsh capital hosts Armed Forces Day and a concert by Paul McCartney.
But the public is being warned to expect a series of road closures in the city centre as the two events get under way.
Cardiff council is urging visitors to make use of park-and-ride facilities.
The service will cover both events, with buses for the McCartney concert running until 2330 BST.
"We are used to policing large events in Cardiff, so this weekend is no different," said Ch Supt Bob Tooby, the divisional commander for South Wales Police in Cardiff.
"It is going to be a really great day. The weather is looking good and we are expecting thousands of people to turn up for the Armed Forces Day and then the concert."
Road closures are already in place around parts of Cardiff Bay:
Bute Crescent remains closed from 0600 BST on Thursday until 2300 BST on Saturday night.
Bute Place East, from its junction with Lloyd George Avenue to its junction with Pierhead Street/Britannia Quay and Pierhead Street west of its junction with Caspian Way/Falcon Drive from 0600 BST on Friday until 2300 BST on Saturday.
Britannia Quay and Harbour Drive (south of its junction with Britannia Quay) from 0600 BST Thursday June 24 to noon Monday June 28.
On Saturday: Bute Place from its junction with James Street/Bute Street, to its junction with Lloyd George Avenue, and Lloyd George Avenue from its junction with Bute Place to its junction with Hemmingway Road, from 0600 BST to 2300 BST.
There will also be rolling road closures in place in High Street, St Mary Street, Callaghan Square and Lloyd George Avenue, as a march by members of the military community takes place from 1100 BST.
For the Paul McCartney concert at the Millennium Stadium, Westgate Street, Park Street and Havelock Lane will be closed from 1630 BST to 2330 BST.