Sex offender on the run from Luton mental health unit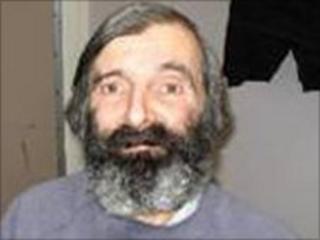 A serial sex offender has absconded from a mental health unit in Luton.
Members of the public have been warned not to approach Graham Geoffrey Sanderson who went missing at about 1100 BST on Wednesday.
Sanderson, 61, was convicted of six counts of indecent assault between 1980 and 2006 on trains and the Tube.
Police said he had completed his latest prison sentence and had been released from prison to a mental health unit in Luton when he absconded.
He was housed under strict conditions, and he breached those conditions, therefore, the power to detain and return Sanderson to the unit is now being enforced.
Missing teeth
At his last conviction at Middlesex Guildhall Crown Court in September 2006, Sanderson was issued with an Anti-social Behaviour Order banning him from the London Underground, any mainline stations or any Docklands railway station.
Det Insp Paul Cook, from Bedfordshire Police, said: "We believe this man will re-offend and in the past has targeted women using the railway system and parks in the London area.
"I would urge anyone who comes into contact with Graham Geoffrey Sanderson not to approach him but instead dial 999 immediately.
"He has been convicted of a number of sexual offences and therefore the risk of him re-offending is extremely high."
Sanderson is described as a white, 6 ft (1.8m) tall, thin with greying short hair and beard.
He is of a very untidy appearance and has missing teeth at the front upper left of his mouth.