After 160 years, red kites return to Lake District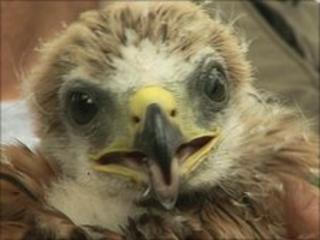 A rare species of bird has been re-introduced to Cumbria for the first time in 160 years.
The first 30 of 90 red kites from Rockingham Forest, Northamptonshire, have been transported to Grizedale Forest in the Lake District.
The Forestry Commission is hoping to repopulate the forest by releasing the kites over the next three years.
The tagged birds will be kept in pens and fed by the forest rangers before being released over the next few weeks.
Wildlife ranger Iain Yoxall said: "It is a real conservation coup for the area and it will help to establish the red kites in a process which could take decades naturally.
Lost habitats
"Even after they have left the holding pens, we will continue to feed them until they stop coming back because they have learned to fend for themselves.
"However, special care will be taken to ensure the birds do not become accustomed to contact with humans."
Red kites almost became extinct from the UK between the 16th and 19th centuries because they were over-hunted and lost their habitats.
Small populations of the birds existed in Wales and their numbers recovered thanks to conservationists.