Three arrested after bus journey across Wiltshire town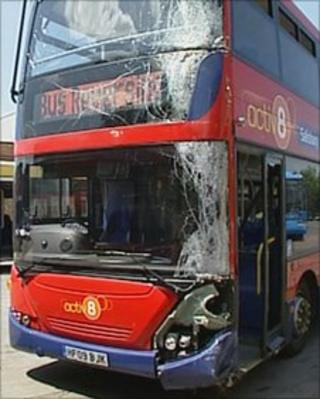 Three people have been arrested after a double-decker bus was stolen and taken on a 12-mile journey across a Wiltshire town.
The vehicle was driven from Amesbury bus station, down the A345 and then abandoned at Boscombe Down estate.
The trip, said to have caused damage estimated at £30,000, was filmed on a mobile phone and posted on the internet website YouTube.
Wilts and Dorset bus company described the action as a "foolish crime".
A Wiltshire Police spokesman said the bus had been taken from the depot and had hit a tree en-route.
"Considerable damage has been done to the bus, some other vehicles and a wall.
"The three arrested have been helping with our inquiries but have now been released on bail," he added.
Eyewitness Lisa Shepherd, who lives in Amesbury, said she was woken by the sound of a crash and people screaming.
She said the bus was badly damaged.
"The bus was parked on the pavement with all its lights on, the [engine] running and all smashed up.
"It was just amazing that the double-decker bus was parked out here on the estate at 0315 in the morning."