Chris Tarrant's ex-wife Ingrid loses parking row appeal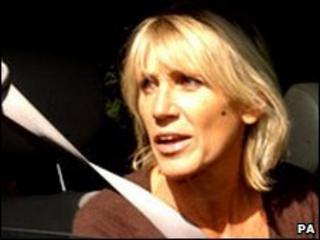 A judge has dismissed an appeal by the former wife of television presenter Chris Tarrant over a parking ticket row.
Ingrid Tarrant was convicted of various offences, including obstructing a police officer in the execution of duty, following the incident in 2008.
The 55-year-old appealed against her convictions at Kingston Crown Court.
But Judge Nicholas Price QC said Tarrant "persuaded herself" her recollection of events was accurate.
He said: "I do not want it to be thought that I am calling her a liar.
"She has been able to persuade herself that she was in the right and the officer was in the wrong and that self-deception enabled her to believe what she had said."
As Tarrant left the court, she said: "I am terribly disappointed."
Earlier she told the hearing she had encountered Pc Peter Groves after returning to her car on 24 December 2008.
She said he had shouted at her and she drove away because she was frightened.
After a two-mile pursuit through residential areas, Tarrant stopped at a red light.
As she got out the car, the officer tried to detain her but she ran away towards another vehicle shouting "Help me".
Tarrant claimed the officer assaulted her as he arrested her.
'Failing to stop'
Pc Groves accepted that he wrestled her to the ground but denied kicking her to make her fall.
He said Tarrant had struggled and screamed as she resisted arrest.
Judge Price added: "It is our conclusion that the appellant drove off because she was annoyed with the officer and was not prepared to wait while he asked her the appropriate details."
Ordering her to pay a further £750 costs, he said: "This appeal exemplifies how a minor motoring offence can escalate out of proportion."
Following her two-day trial at Staines Magistrates Court in July 2009, Tarrant was convicted of causing an unnecessary obstruction, wilfully obstructing a Pc, resisting a Pc and failing to stop.
She was fined £2,700 and ordered to pay £1,200 costs.