India-Pakistan tennis stars transcend national distrust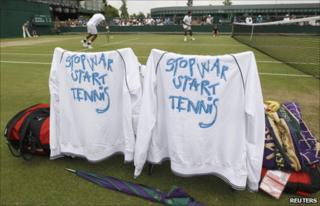 As Indian and Pakistani diplomats meet in Islamabad to bridge the gulf of mistrust between them, two tennis players are doing exactly that.
Pakistan's tennis ace Aisam-ul-Haq Qureshi and his Indian doubles partner Rohan Bopanna are through to the third round of Wimbledon.
Together, they have captured the imagination of tennis fans everywhere by forming a successful partnership.
They have also heightened interest in the sport throughout South Asia.
'Indo-Pak Express'
Speaking to the BBC's Asian Network, Qureshi said: "When we started out in tennis the tension between India and Pakistan wasn't something I cared about, I was playing with my friend.
"Over the passage of time, we've seen a bigger picture apart from tennis, and it's about changing people's views. If we can change even one person's view, we'll take it as a positive.
"It's really nice to see Indians and Pakistanis sitting together supporting one team. You don't see that anywhere else, in any sport. Our on-court and off-court relationship proves that Indians and Pakistanis can get on fine."
The duo has been nicknamed "The Indo-Pak Express" on the ATP World Tour. At Wimbledon they have been seen practising with "Stop War Start Tennis" track suit tops.
Last week, Rohan Bopanna was nominated as a Champion for Peace by an international organisation under the patronage of Prince Albert of Monaco.
He said that he hoped to use the title to promote peace in India.
Qureshi, a fellow Champion of Peace, said it was important to spread the message of peace through tennis.
"The situation in Pakistan has been turbulent over the past two to three years, with terrorism and war. It's about spreading a positive message about my country," he said.
"We are loving people, we are hospitable. Pakistanis are basically not terrorists."
Controversial pairings
The pair won their first ATP Tour title together at the South African Open in Johannesburg in February 2010, performing well in other tournaments since then.
Coming from cricket-loving countries, both players say it is not always easy to get recognition in their home countries.
The pair say that they are now trying to organise a friendly tennis match at the Wagah border, the only overland checkpoint on the frontier between India and Pakistan.
"We've asked the prime ministers and presidents from both countries. If we can pull it off, I will be playing on the Pakistani side and Aisam will be on the Indian side," Bopanna said.
Qureshi is no stranger to controversial pairings.
He was threatened with expulsion from the Davis Cup by the Pakistan Tennis Federation for his doubles pairing with Israeli player Amir Haddad.
In 2003, they both won the Arthur Ashe Humanitarian of the Year award for playing together despite pressure from their communities.