Poison death farmer Robert Dearnley committed suicide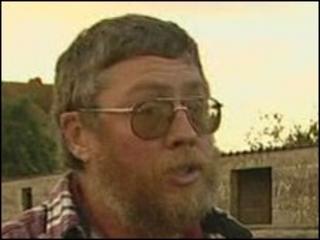 A bankrupt farmer facing eviction and the break-up of his family killed himself by inhaling fumes from a deadly pesticide, an inquest has heard.
Robert Dearnley, 58, breathed in the substance at Burpham Court Farm in Guildford, Surrey, on 28 May last year.
Woking Coroner's Court heard he dialled 999 after mixing tablets of Phostoxin - commonly used for mole, rabbit and rat control - with water, and inhaling it.
The coroner recorded a suicide verdict, saying he was clearly "a troubled man".
Slumped in bathroom
Michael Burgess said: "He had ongoing legal disputes, possible eviction in the near future as well as severe financial implications.
"He was concerned too about the welfare of his animals on his farm and third, and possibly the most critical point, he had issues inside the family and the possible disintegration of the family unit."
Mr Burgess added he was satisfied that Mr Dearnley had activated the poison as he had threatened to do on previous occasions to cause his own death.
The inquest heard how officers arrived at the property to find Mr Dearnley slumped in the bathroom struggling to talk or breathe properly.
He warned the officers of the deadly nature of the fumes and firefighters in protective chemical suits had to be called in.
Taser gun
His wife, Margaret, told the court that he had made threats in the past about using the chemicals at his disposal.
It also heard that days before his death, Mr Dearnley was subdued with a Taser gun after threatening a police officer with a pitch fork, before being arrested on suspicion of affray.
It followed a domestic incident at the farm involving his wife and he was taken into custody where he was examined by a doctor before being quizzed by police and bailed.
Dr Philip Bisazza said that "not once" did Mr Dearnley give him the impression that he might take his own life, and he did not feel he should be sectioned under the Mental Health Act.
In a statement following the hearing, Mrs Dearnley said: "Bob is the sort of person whose determination would make him able to climb to the top of Mount Everest, sail round the world unaided and under different circumstances I fully expect Bob would have made a great success of everything he turned his hand to.
"The loss of Bob will affect many people."