Welsh play's first performance for 400 years in Cardiff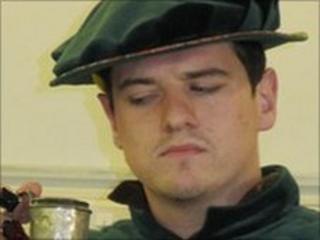 A play which has not been seen for 400 years is to be performed at Cardiff's National History Museum, St Fagans this weekend.
Y Gwr Cadarn (The Strong Man) was written in Welsh by an unknown playwright, possibly a contemporary of Shakespeare.
Its theme is the dangers of wealth but one expert said it has a "comic, lively and entertaining side to it".
It will be performed twice to visitors of the museum.
Dr Sarah Campbell, a Fulbright scholar from Cardiff University, is responsible for the productions.
An expert on plays of this period, she has been directing a group of student actors from Cardiff University in re-enacting a 16th Century performance.
With the help of Ceri Elen, a Welsh playwright, Dr Campbell is attempting to recreate the visual experience shared by audiences 400 years ago.
The author of the play remains anonymous but is believed to have originated in north east Wales given the dialect used in the script.
'Playful'
The story follows the moral endeavours of a wealthy Christian hoping to secure his place in heaven.
With a light-hearted and vibrant style, it deals with the dangers of wealth and the gambling of riches.
Dylan Foster Evan, senior lecturer of Welsh at Cardiff University, said: "The play has a comic, lively and entertaining side to it."
He also promises it to be "playful for a modern audience."
It is written in straightforward Welsh but the event's organisers are also encouraging English speakers to come along.
An introduction and synopsis in English will be provided for those attending.
The productions on 26 June at St Teilo's church, at National History Museum, St Fagans, Cardiff at 1130 and 1400 BST.