Quality compost handed out free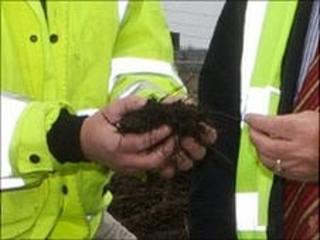 Householders who have taken part in a food waste scheme have seen their efforts rewarded after the compost produced was given a quality award.
People living in Gwynedd have been using a council scheme where food waste is taken away and composted instead of going to landfill.
And the compost produced has been awarded a British Standard award for quality.
Now residents are being offered free bags of the compost for their gardens.
"As a council we are committed to reducing the tonnes of waste sent to landfill, and therefore the success of recycling and composting schemes is key and we must thank local residents for their support to the brown bin campaign," said Councillor Arwel Pierce, the council's highways and municipal services portfolio leader.
"This opportunity is a way for us to thank the people of Gwynedd for their efforts in using the brown bins to dispose of their food waste and garden waste," he added.
Mr Pierce said it was "excellent news" that the compost was good enough for British Standard Institution recognition.
"It shows the circle is complete as food and garden waste goes from the brown bin to the council's recycling centre, and then back into the land," he said.
The first free compost will be available at the Ffridd Rasus recycling centre near Harlech from 1000 to 16000 on Saturday 26 June, and from 1000 to 1400 on Sunday, 27 June.
Residents can pick up compost for their garden in up to four of their own bags.
Similar events are planned in the county's other recycling centres over the next few months.