Boxer Nathan Cleverly earns maths degree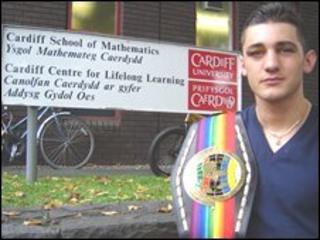 European boxing champion Nathan Cleverly has made the grade by securing a maths degree at Cardiff University.
Cleverly, from New Tredegar in Caerphilly county, sat his maths finals after revising up to 10 hours each day.
The 23-year-old's hard work paid off when he earned a 2:2 degree, and he will graduate next month.
He said he now wanted to fully focus on his main ambition which was to secure a world boxing title.
The unbeaten European light-heavyweight champion admitted it had been demanding studying maths while maintaining peak fitness.
"It's the culmination of four years' hard work. It has not been easy because I've had to juggle my commitments with boxing as well," he said.
"All the other students in my year have been able to concentrate full time on getting their degrees.
"But as well as crunching numbers, I've had to fight for the British, Commonwealth and European titles as well, and spend most evenings hitting the heavy bag and doing numerous press ups and sit ups."
'Better fighter'
Cleverly is expected to make the first defence of his European light-heavyweight title against Nadjib Mohammedi of France on 10 July.
But he has made no secret that his priority is a world title fight.
"I leave the matchmaking to my promoter Frank Warren, but I'm ready for a shot right now," he said.
"I'm going to be a much better fighter when I go full time, and people are going to see a massive improvement in the next six months.
"Hopefully I can get a quick defence of my European title in, then it's a question of waiting for my opportunity at world level."