Test to predict menopause age a step nearer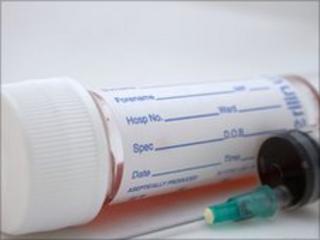 Doctors are a step closer to accurately predicting the age at which a woman will hit the menopause.
A 12-year Iranian study of 266 women found it was possible to pinpoint the age of menopause by measuring levels of a hormone called AMH.
If proven in further studies, it potentially means women could have more control over when to start a family.
It could be particularly useful for identifying women who may have an early menopause, experts said.
AMH controls the development of follicles in the ovaries from which eggs develop.
The idea of using the hormone to help predict fertility is not a new one.
Tests are already available to look at "ovarian reserve", which indicates if menopause is imminent.
But this is the first time researchers have worked out a formula for linking AMH levels in younger women with future age of menopause.
In the study 266 women aged between 20 and 49 were monitored through blood samples and physical examinations at three-yearly intervals over a 12-year period.
The researchers, who presented the results at the European Society of Human Reproduction and Embryology conference in Rome, then worked out a mathematical model for estimating the age at menopause from AMH levels in the blood.
For the 63 women who reached menopause during the study there was consistent agreement between their "predicted" age and actual age of menopause.
On average, the difference between the predicted and actual age of menopause was only a third of a year, with a maximum margin of error of three to four years.
However only three of the women under the age of 45 hit the menopause during the study, so experts said they would like to see the formula tested in a much larger group to prove its accuracy.
'Insurance policy'
The study leader, Dr Fahimeh Ramezani Tehrani, from the Shahid Beheshti University of Medical Sciences in Tehran, Iran, said the results could enable doctors to make a more realistic assessment of women's reproductive status "many years before they reach menopause".
UK doctors said using AMH as a guide to future fertility was proving potentially very useful but warned women against relying on such tests as an "insurance policy" encouraging them to put off having a family.
Stuart Lavery, a consultant gynaecologist at Hammersmith Hospital in London and spokesman for the British Fertility Society, said that the quality of the partner's sperm and other medical complications such as scarred tubes all contribute to overall fertility.
"The issue where we would have a concern is if people become too reassured by this."
Dr Dagan Wells of the Nuffield Department of Obstetrics and Gynaecology at the University of Oxford, said: "Given that women are tending to start their families later and later, postponing having a child until careers are established or until 'Mr Right' comes along, foreknowledge of the length of their fertile lifespan should help them to plan ahead."
But he said that fertility declines in the years leading up to menopause, so more research is needed to work out if AMH levels can determine the point at which fertility actually drops.