Simon Weston backs disfigurement campaign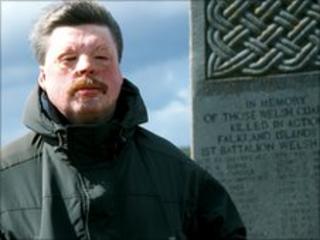 Society's obsession with beauty makes it difficult to raise awareness of issues like facial disfigurement, says Falklands War veteran Simon Weston.
Mr Weston is supporting a new campaign to ensure people with disfigurements are treated "fairly and equally".
Images of perfection in modern society were part of the problem, he said.
The campaign, Face Equality, by the Changing Faces charity aims to tackle prejudices against people with disfigurements.
It is being launched on Monday at the Welsh assembly in Cardiff Bay.
Mr Weston is a former Welsh Guardsman who was seriously burned during a bombing attack on the Sir Galahad during the Falklands conflict in 1982.
He was awarded an OBE in the 1992 Queen's Birthday Honours for his subsequent charity work.
"We base our stereotypes on beauty and magazines and footballers' wives," he said.
"It's rare to see hugely overweight or plain or ordinary faces on television.
"We see them on soaps like Coronation Street but it's hardly the norm."
Mr Weston, who is from Nelson in Caerphilly county, said most people were unaware that close to 1m people in the UK had serious facial disfigurements.
He said the campaign was about encouraging people to give those with disfigurements "a fair crack of the whip".
"What it's about, and what I'm supporting, is to say: 'Don't judge people on what they look like'," he said.
"Judge people on what they are. That's true for every aspect of life.
"All the awareness campaign is about is trying to break down these barriers."
As part of the campaign, Cardiff Bus will be displaying 200 posters on its buses for two weeks.
The posters will feature photographs of children with different types of disfigurement which "challenge people not to judge them based on their facial appearance".