Pair take 'cow van' to bull run from Highlands to Spain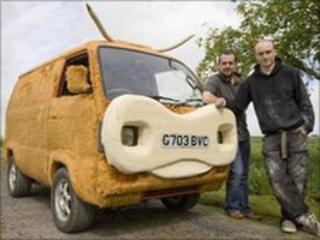 Two men have converted a small van to look like a Highland cow before driving it from John O'Groats to Spain for Pamplona's Running of the Bulls.
Mechanic Mikey Sandison, 29, and electrician Gordie Mackay, 25, from Caithness, glued fur used for pillows to the vehicle.
They will take part in the Ramshackle Rally across Europe during their two-week trip, which starts on Saturday.
The pair hope to join the bull run while wearing kilts.
Farmer's son Mr Sandison said they hoped to raise thousands of pounds for the Alzheimer's Society along the way.
After covering the van in fur, he carried out a road test to make sure it stayed stuck on.
The 22-year-old vehicle was bought for less than £150 to comply with the rally's rules.
Mr Sandison said: "I'm a mechanic so hopefully I'll be able to deal with any break downs along the way."