River Forth rescue after police chase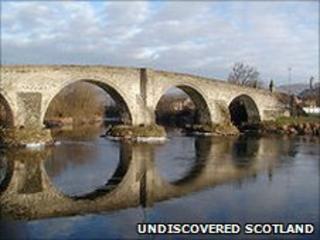 Two men apparently trying to evade police had to be rescued from a river in Stirling.
The pair entered the flast-flowing River Forth near the city's "Auld Brig" in the early hours of Friday morning.
A police underwater search unit, firefighters and members of the International Rescue Corps (IRC) were involved in the rescue.
Police said four men were arrested and would appear in court on Monday in connection with theft.
It is understood members of the public alerted police to a break-in at a scrap yard, shortly after 0415 BST.
'Very dangerous'
When Central Scotland Police officers arrived at the scene they found two men stuck under the bridge.
Police negotiators were used to try to resolve the situation.
One of the men was pulled out of the water with the help from the IRC at about 0700 BST.
The other made it to safety using an inflatable walkway set up by firefighters half an hour later.
A Central Scotland Police spokeswoman said: "Two men were in the water by the old bridge. It could have been very dangerous."