Chris Tarrant's ex-wife Ingrid 'kicked by Pc' in Cobham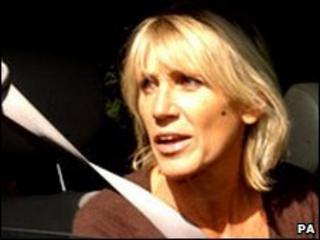 Chris Tarrant's ex-wife has told a court that she was "taken down" by a police officer following a confrontation over a parking ticket.
Ingrid Tarrant, 55, of Cobham, Surrey, said Pc Peter Groves had become "angry" after she parked illegally in a bus stop in Cobham High Street.
The television presenter's ex-wife told Kingston Crown Court she had driven off because she was "frightened".
Tarrant is appealing against her sentence and conviction in July 2009.
She was convicted of causing an unnecessary obstruction, wilfully obstructing a Pc, resisting a Pc and failing to stop.
During the second day of her appeal hearing, she said she had encountered the officer after returning to her car on 24 December 2008.
'Legs buckled'
She said he had "shouted" at her as she attempted to apologise and could feel his spittle on her face.
When she drove away, Pc Groves tailed her in a police van with flashing blue lights and a siren.
Tarrant told the court that when she stopped Pc Groves had walked over in a "threatening" way.
She said: "He came up to the window and told me to get out of the car and I shook my head. He was very commanding, forthright and stern.
"There was no way I was going to get out of the car. I felt that he was out of control.
"He tried to open my door and when he discovered it was locked he said 'I will count to three and if you do not open the door I will smash your window'."
Tarrant unlocked the door and as she began to step out of the vehicle Pc Groves pulled her out of the car, she said.
"He pushed me back against the car, he pinned my head on the roof of the car and had my arm behind my back," she said.
"I said 'please let go, you are really hurting my arm'. Instead of letting me go he pushed my arm to the top of my back and I screamed in pain. He then let go of me."
Tarrant said she took the opportunity to run to a 4x4 which had pulled over behind them.
"I said 'please help me, this man is a psycho, he is getting off on this, please call for help'.
"Then we were facing each other and he swung me round and started to wrestle with me. He kicked me from behind. My legs buckled - I was taken down."
Granted a divorce
"He pulled me up and pushed me towards the back of the van."
Once inside the police van, Tarrant regained her composure and was "de-arrested" to be told she would face a court summons, the court heard.
On Thursday, Pc Groves told the court Tarrant had struggled and screamed as he tried to arrest her.
Following her two-day trial at Staines Magistrates Court, Tarrant was fined £2,700 and ordered to pay £1,200 costs.
She was granted a divorce from television presenter Chris Tarrant at London's High Court in February 2007.
The hearing continues.