Cardiff bone marrow patient develops Legionnaires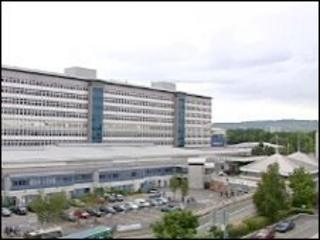 A bone marrow transplant patient has contracted Legionnaires' disease at the University Hospital of Wales, Cardiff.
The man is said to be 'critical but stable' after being diagnosed with the disease while at the transplant unit.
Cardiff and Vale University Health Board said the likely source of the infection was the sink in his room.
The haematology ward has not been closed as the hospital believes this is "an isolated case" and has set up a telephone helpline for patients.
Legionnaires' is a bacterial disease that causes a lung infection or pneumonia.
It is not contagious and so cannot be passed person-to-person.
'Appropriate treatment'
Dr Kesh Baboolal, the health board's director of acute hospital services, said: "One of our patients on the Haematology Bone Marrow Transplant Unit recently became unwell.
"The patient was quickly diagnosed with legionella and the appropriate treatment initiated straightaway.
"We undertook an immediate and detailed investigation to identify the source of the infection, involving a team of experts from the UHB and Public Health Wales, to ensure that the risk to other patients was minimised.
"Initial investigations have identified a sink area in one of the cubicles as the source of the legionella, both of which have been isolated.
"To ensure the safety of all patients we have extended our testing and introduced additional preventive measures to minimise the risk of infection. At this stage, we believe this is an isolated case.
Helpline
"The UHB takes matters of patient safety extremely seriously and, following extensive consultations with clinical experts in public health, blood disorders and infectious diseases, we are confident that the swift action taken by the Health Board has minimised the risk of infection to other patients."
A helpline for patients, families and members of the public to deal with any concerns they may have is available from 1900 BST to 2100 BST on Friday and 0900 BST to 1700 BST over the weekend. The helpline number is 0800 952 0244.