RSPB moves to allay fears over 'gull attack'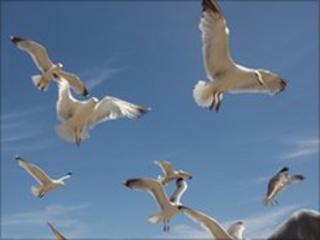 The public has been warned to be wary of black-backed gulls in Belfast city-centre following reports of an attack on a dog being walked by a pensioner.
City worker David Carson said he was walking in Glengall Street last week when he spotted the incident.
He said he had noticed large numbers of the birds in Belfast recently and had also seen them devour a fledgling pigeon earlier this month.
And he believes more should be done to protect the vulnerable from the gulls which have wingspans up to five feet long.
"Myself and a friend were walking along Glengall Street and we saw it perched on the mezzanine floor outside the Europa Hotel," he said.
"It was clearly annoyed about something and it swooped and had a go at a dog being walked by an elderly man. It swooped twice at the dog.
"It was at head height with the dog and my worry is what would happen if it was a child with an ice-cream."
Mr Carson said he had contacted the Royal Society for the Protection of Birds (RSPB) about the incident and said more should be done by government agencies to control the spread of the gulls' nests on buildings in the city.
"I saw them rip apart and kill a fledgling pigeon three weeks ago," he added.
"I was in the Monagh area of west Belfast this week and I was astonished how many of them were flying around."
Breeding
The RSPB confirmed that in the UK the nests of all wild birds were protected by law.
Stephanie Sim of the RSPB said the two main types of black-backed gull common to Northern Ireland were the Great black-backed gull and the Lesser black-backed gull.
The Great black-backed gulls are the largest gulls in the world and Ms Sim said they had a wingspan of between 150 and 170cm.
"The birds are breeding at this type of year and gulls would breed at the top of roofs of flat buildings in urban centres," she said.
"Because the gulls are nesting in urban areas, someone going close to a nest is going to pose a threat and the gulls will defend the nest.
"This is normally reflected in swooping behaviour.
"They would eat fledglings.
"They would eat all kinds of things like chips off the floor and they hang around city centres because there is loads of food there.
"They would not be trying to snatch food off people."
Stephanie said the public should not be alarmed as reports of such attacks were sporadic. She added that most gulls had fledged and left their nest by August.
She added that the population of the Greater and Lesser-backed gull had fallen on the island of Ireland by 25% since the 1970s.