River danger Llanrug head teacher warning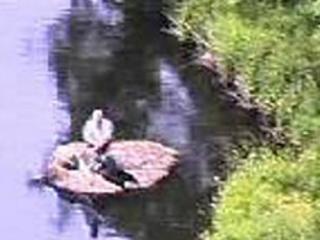 A head teacher has warned children and teenagers to keep away from a river where a pupil had to be rescued by an RAF helicopter.
Ysgol Brynrefail secondary school head Eifion Jones said it was a priority to install a fence near the site at Afon Rhythallt to prevent another incident.
Mr Jones said the area was popular with youngsters outside school times.
Gwynedd Council would not comment on the fence but said the incident was being investigated.
The boy broke his leg whilst jumping on a rock in the river, after a group of year 7 pupils left the school without permission.
Mr Jones said there had not been a fence to mark the boundary, between the school grounds and the open land down to the river, for many years.
Mountain rescue team
He said the problem had been identified as a priority, with the school waiting for confirmation from Gwynedd County Council that fencing work could be carried out.
A 100ft (30m) embankment of "loose ground" makes it particularly hazardous, he added.
The head teacher said it appears the boys managed to get down the embankment with no problem and, as the water level was low, they used stones in the river to cross to the other side.
Then as they walked up the opposite bank before the boys decided "for a dare" to try and jump on to a rock sticking out of the river a short way from the bank
"This boy didn't quite make it and landed awkwardly," said Mr Jones.
Thick vegetation
"Two of the others then were responsible enough to run back to the school to get help."
Mr Jones said members of staff rushed to the scene, including one who is a member of the Llanberis Mountain Rescue Team.
He assessed the location and it was decided to call for help from the mountain rescue team and an RAF helicopter, Mr Jones said.
"There was no way an ambulance could get there as one side is covered in thick vegetation, with the steep embankment on the other," he added.
Mr Jones said there had already been an assessment of the school boundaries before the incident, and a full investigation of the circumstances of the boy's injury would be carried out.
"In all schools there are places where pupils can leave the site, and they know the rules, but a fence at this site is essential as it is a location used by local children outside school as well.
"During the evening it is a place youngsters go to drink alcohol, and fires are lit, so there could be a very serious incident."
A Gwynedd council spokesperson said: "As is the case with all such incidents, the council will be investigating the matter."