Bristol Channel wind farm testing to start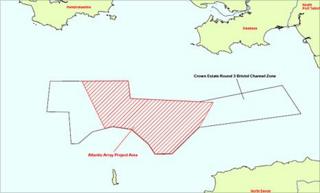 Backers of a planned 250 turbine wind farm in the Bristol Channel are hoping to start testing wind speed and tidal conditions shortly.
RWE npower renewables is applying for a test mast with a view to submitting a full application within two years.
Called Atlantic Array the turbines will be sited around 10 miles (16km) off the south Wales coast and 8.7 miles (14km) off north Devon at the nearest points.
It says it would generate electricity to supply around 1.1m homes.
It was announced in January the company had successfully tendered for the Bristol Channel zone - one of nine around the UK.
RWE npower renewables has now submitted an application to the Marine Management Organisation for the test mast.
Robert Thornhill, development manager for the Atlantic Array project said: "Since we were awarded the rights to develop the Atlantic Array Offshore Wind Farm in the Bristol Channel we have been focusing our energies on carrying out the extensive surveys and assessments required for the consent process.
"As part of this process we recently submitted an application for an anemometry mast within the development zone, primarily to measure wind speeds, but also to assess wave and tidal conditions.
"As we continue the development process we will be working in close consultation with government agencies, environmental groups and coastal communities with the aim of submitting a planning application during 2012."
Members of the public can inspect copies of the application at Swansea Central Library, County Hall in Pembrokeshire, Barnstaple Civic Centre and at the Ilfracombe Centre.
RWE npower renewables is also behind several off-shore wind farms in north Wales including Rhyl Flats, North Hoyle and the proposed Gwynt y Môr scheme which was given the go-ahead earlier this year.
It said if it was successful in gaining consent to build the Atlantic Array Wind Farm first generation could be expected from the site as early as 2015.