Triathlon recalls the Wolf of Badenoch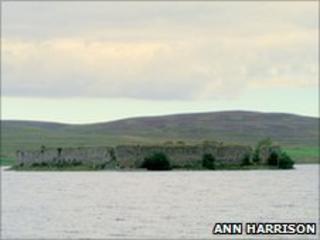 The ruined island castle of a notorious 14th Century lord known as the Wolf of Badenoch will feature in a new sports event.
The Wicked Wolf Triathlon in August will challenge entrants to kayak, cycle and run through Badenoch and Strathspey while raising money for charity.
Competitors will paddle around Lochindorb Castle, the former stronghold of Alexander Stewart.
He earned notoriety for destroying Elgin Cathedral in 1390.
A son of King Robert II, Stewart was a lord and 1st Earl of Buchan.
He had a reputation for cruelty and ordered that the homes of anyone who opposed him to be burned down.
The attack on Elgin followed the Bishop of Moray's support for the earl's wife when she was expelled to make way for his mistress.
The triathlon will also see competitors race by mountain bike to Carrbridge, before a run through woodland near the village.