'Magnified' lunar eclipse in North America finishes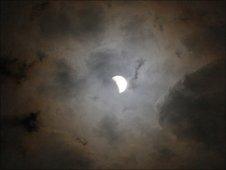 A partial lunar eclipse which was unusually magnified to viewers in North America has now ended.
The eclipse began at 1017 GMT, when the Moon entered the shadow of Earth, and lasted around three hours.
Because of the timing, the eclipse was not visible from the UK or Europe.
But in many parts of the US and Canada, the eclipse appeared larger because it occurred while the Moon was close to the horizon. The effect is known as the "Moon illusion".
According to Nasa, low-hanging Moons look "unnaturally large when they beam through trees, buildings and other foreground objects". The reason for this is not understood.
"Observers in India, Japan, and parts of East Asia will experience the same phenomenon," Nasa wrote on its website.
"They'll see the eclipse on Saturday evening as the Moon is rising."
At its maximum, 54% of the Moon's diameter was covered. This occurred at 0438 US Pacific time (1138 GMT).
Because the Moon, Sun and Earth were not aligned, the eclipse did not reach "totality".
A full lunar eclipse will take place in December and will be visible throughout North America.
Related Internet Links
The BBC is not responsible for the content of external sites.