Cornwall day centre friends show support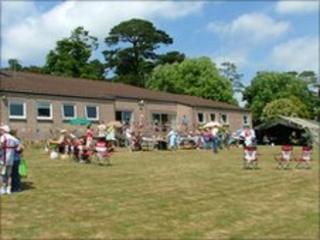 A group supporting a day centre for adults with learning disabilities says it will fight for it to remain open if Cornwall Council attempts to close it.
The Morley Tamblyn Lodge in Liskeard, which has about 40 clients, is one of three centres in the county threatened with closure.
The newly-formed friends group said it was determined to stop any such moves.
Cornwall Council said it would not close any centres until alternatives were available.
'Love it'
Pauline Framingham is secretary of the Friends of Morley Tamblyn and is also a carer for her brother, Richard, who regularly uses the lodge.
She said the centre was vital to the people who used it.
She said: "They just love it here and it's their lifeline, it's their place to come.
"For a lot of the people here, it's their community; so we think it's really important that it continues."
The Blantire and Murdoch Trevithick centres have also been threatened with closure.
Cornwall Council said it was reviewing how best to provide day services for the county's 500 adults with learning disabilities.