China jails Tibet environmentalist Karma Samdrup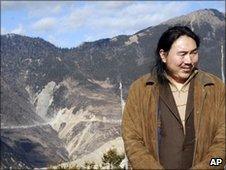 A court in China has jailed prominent Tibetan environmentalist Karma Samdrup for 15 years on charges of robbing tombs and dealing in looted relics.
Samdrup's lawyer said police had used false evidence. His wife said he had been beaten in custody.
There has been no comment from the authorities on the sentence.
International human rights groups say China has increased pressure on leading Tibetan figures since riots killed 22 people in the region in 2008.
Samdrup, 42, was sentenced by a court in China's western region of Xinjiang.
The BBC Damian Grammaticas, in Beijing, says he is the most high-profile Tibetan figure to be jailed in recent years.
'Philanthropist of the year'
A well-known businessman, Samdrup made a fortune trading in Tibetan antiques. He used some of his money to fund conservation projects on the Tibetan plateau.
In 2006 China's state TV named him "philanthropist of the year".
Samdrup's wife says police tried to force him to sign a confession by pouring cold water over him during winter and denying him food and sleep.
His lawyer, Pu Zhiqiang, said the evidence had been faked and no proper translator had been provided at the trial.
"Tibetans do not touch coffins or corpses, they advocate sky burials, water burials, but not earth burials. Also, robbing graves is taboo for them," he told the AFP news agency.
The Free-Tibet Campaign, a London-based group, said Samdrup had been convicted "on trumped-up charges".
Human rights activists say about 50 people have been detained in a crackdown on Tibetan figures since the riots that shook Tibetan areas before the 2008 Olympics in Beijing.
Some of Mr Samdrup's supporters believe he is being punished for publicly defending his two brothers.
Their environmental group has named a local official who they say was hunting endangered animals in a Tibetan nature reserve. Both brothers are in custody.
Tibet's government-in-exile in Dharamsala, India, reacted to the sentence by calling on Beijing to release all "prisoners of conscience".
Related Internet Links
The BBC is not responsible for the content of external sites.