Busiest day at Glasgow airport as summer getaway begins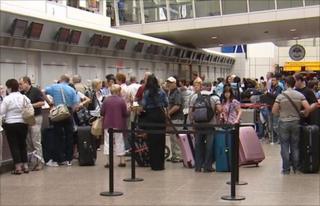 More than 100,000 passengers are likely to travel through Glasgow airport as holidaymakers begin the summer getaway.
Friday was expected to be the airport's busiest day of the year as many schools break for the holidays.
The airport said it was due to handle about 110,000 passengers between Friday and Monday.
However, tourism bosses were also expecting the growing "staycation" trend to continue, with many people likely to holiday at home.
The most popular sunshine destinations among Glasgow Airport passengers were Palma, Tenerife, Alicante and Dalaman.
About 33,000 passengers were due to travel through the airport on Friday.
Amanda McMillan, managing director of the airport, said: "Today is our busiest day of the year so far and it leads into the busiest weekend.
"It is fantastic to see so many holidaymakers passing through the airport, particularly given the challenges faced by the aviation industry recently.
"It demonstrates that despite a slow recovery from the global recession, Scots do not want to give up their summer holiday."
She added: "We are delighted to be the starting point for what many consider the highlight of their year, and with so many holiday flights from Glasgow we are looking forward to a lot of hard work over the next few days but also a fantastic atmosphere."
Thousands of people are also expected to stay in Scotland during their summer break.
Businesses hoping to cash in on the boom in "staycations" were already reporting an increase in bookings.
Traci Allsop, from Luss Camping and Caravanning Club site on Loch Lomond, said: "The last eight weeks we have been nearly full, nearly every night.
"We have been really busy at the weekends especially.
"More tents seem to come out at the weekend, about 50% up from last year. It's been really, really good."
Chairman of VisitScotland Mike Cantlay said: "What we are doing is targeting the close markets and especially the Scottish market with £5m worth of investment in marketing.
"We want to try and generate more than £100m worth of revenues into Scottish tourism this year."