Thieves steal kitchen sink from South Africa police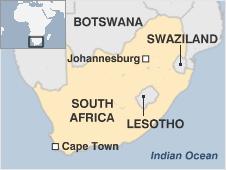 South Africa's police are investigating after thieves stripped a police station of all its contents, down to the kitchen sink.
The office was under renovations and ready for re-occupation when the thieves hit, reports South Africa's Times Newspaper.
The robbers helped themselves to everything of value - including doors, cupboards, basins, cutlery, tiles, furniture, electrical equipment and mortuary fridges.
Officers from the Carletonville police station, west of Johannesburg, have had to cram into three small rooms.
The space is inadequate, and there with no holding cells or parking spaces. The rent costs the police about 127,000 rand ($17,000; £11,430) each month, reports The Times.
It is not clear how the burglars managed to clean out the office without being detected by the security company contracted by the Department of Public Works to guard the premises.
Democratic Alliance police spokesperson Dianne Kohler Barnard said that the Department of Public Works had "failed taxpayers".
"How bizarre, that the police will now have to investigate a crime committed at a police station," she said.
"It's absolutely terrible, but typical of Public Works. For them to allow that place to be stripped is outrageous."
Public Works spokesperson Thami Mchunu said he was still gathering information about the incident.
"I will give you the full details as soon as possible," he said, reports the newspaper.
Related Internet Links
The BBC is not responsible for the content of external sites.