Presiding officer Alex Fergusson 'will give up post'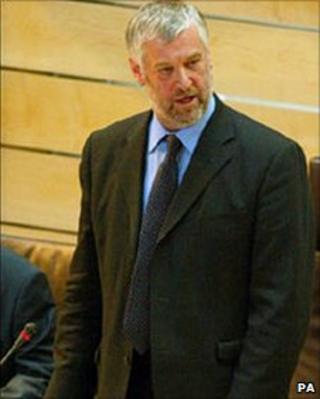 The Scottish Parliament's presiding officer has said he will give up the post if he is re-elected.
Alex Fergusson, who represents the Galloway and Upper Nithsdale constituency, took up the role in 2007.
He said he had "immensely enjoyed the privilege" of being presiding officer for the last three years.
However, he said it had left little time for family life and he would not put his name forward for the post if elected to the parliament in 2011.
"I remain fully committed to the role for the duration of this parliament and will continue to carry out my presiding officer duties, as I have always tried to do, in an impartial and fair manner," he said.
"However, balancing the roles of constituency member and presiding officer can leave little time for family life.
"After handing over to my successor, I look forward to being able to spend more time with my wife and family while focussing solely on constituency issues if I am fortunate enough to be re-elected to parliament."
Mr Fergusson said he intended to seek the Conservative Party nomination for the redrawn seat of Galloway and West Dumfriesshire.