Rwanda 'assassins' kill reporter Jean Leonard Rugambage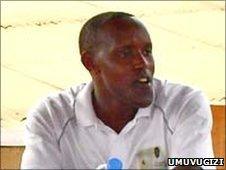 A journalist working for a private newspaper has been shot dead in front of his house in the Rwandan capital.
Witnesses say Jean Leonard Rugambage, the acting editor of Umuvugizi newspaper, was fired on by two men who then fled in a car.
The authorities had recently suspended the paper, prompting it to start publishing online instead.
Police say they do not know who was behind the attack - the paper's exiled chief editor has blamed the government.
'South Africa shooting link'
Editor Jean Bosco Gasasira, who fled to Uganda in April after his paper was suspended, said Kigali had master-minded the assassination of Mr Rugambage who died in hospital after the shooting.
"I'm 100% sure it was the office of the national security services which shot him dead," he told US state-funded radio Voice of America.
Mr Gasasira said it was because of an article published on the Umuvugizi website relating to the attempted killing last weekend of former army chief Lt Gen Faustin Kayumba Nyamwasa in South Africa.
Rwanda has denied accusations it was behind the shooting of Lt Gen Nyamwasa.
He went into exile in South Africa earlier this year after falling out with President Paul Kagame, who he accused of corruption.
Mr Kagame denies these charges and his government accuses Lt Gen Nyamwasa of being behind grenade attacks in Rwanda earlier this year.
In April, Mr Kagame reshuffled the military leadership and two high-ranking officers were also suspended and put under house arrest.
Earlier in the month, Umuvugizi was suspended for six months by the press council for inciting opposition to the government.
Its website, launched in May, is not currently accessible through Rwandan internet providers; the authorities deny involvement in blocking it.
Mr Rugambage, who is survived by his wife and a child, was acquitted of genocide crimes by a local "gacaca" court in 2006.
The BBC's Geoffrey Mutagoma in Kigali says his death has shocked many journalists in the country.
Presidential elections are due in Rwanda in August - the second such vote since the 1994 genocide.
Human rights groups have accused the Rwandan government of repressing independent media in the country, which Kigali denies.
Mr Kagame's government argues that it must take care to control the media and politicians to avoid a repeat of the genocide, in which some 800,000 ethnic Tutsis and moderate Hutus were slaughtered.
Earlier this week, UN chief Ban Ki-moon appointed Mr Kagame to co-chair a committee of "superheroes to defeat poverty" - to push for progress in achieving the UN's Millennium Development Goals.
He has been praised for trying to modernise Rwanda's economy since coming to power at the end of the genocide.
Related Internet Links
The BBC is not responsible for the content of external sites.