Surfers Against Sewage paddle across English Channel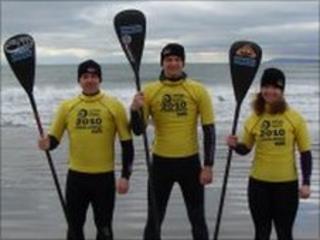 A group of surfers have become the first relay team to cross the English Channel on stand-up paddleboards.
The four-strong team set off from Dover, Kent, and crossed one of the world's busiest shipping lanes in five hours, 38 minutes and 30 seconds.
The event was organised by clean water campaigners Surfers Against Sewage (SAS), who hope to raise £10,000.
A spokesman said: "We saw dolphins and an inquisitive seal during the challenge, which was incredible."
He added that the "weather wasn't quite perfect as we had a head-on breeze and at one point visibility was down to 500ft but we did it in the end".
'Best in country'
The paddlers are also awaiting confirmation to see whether an attempt by Elliot Dudley will be accepted as a new solo record after he crossed seconds before the relay team in five hours, 38 minutes and seven seconds on his stand-up paddleboard.
Team leader Matt Argyle, 37, of Bracklesham, West Sussex, had been paddling six times a week to get himself ready.
Paddleboarding is a form of surfing, which is said to be one of the fastest growing watersports.
Rather than lying out on their boards, enthusiasts stand upright and use a paddle.
Speaking before the challenge, SAS's executive director Hugo Tagholm said: "These guys are the best paddlers in the country and we are hoping for a great attempt."