Rare red kite found dead at wind farm near Dingwall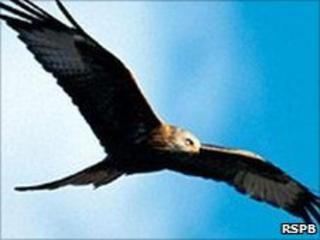 A red kite has been found dead at a wind farm which RSPB Scotland had objected to because of concerns the turbines were a threat to rare birds.
The bird was one of three kites, adopted by primary schools, which the BBC Scotland news website reported last week as having gone missing.
The raptor was found at Fairburn wind farm, near Dingwall. Its injuries included fractures and bruising.
Scottish and Southern Energy said it was also probing the death at its site.
Last Friday, BBC Scotland reported how three kites were missing from RSPB Scotland's Eyes to the Skies project.
Pupils had nicknamed the satellite-tagged kites Tweety Pie - the one found at the wind farm - Sky and Ruby.
The RSPB was investigating the deaths of the other two birds - one which "perished in unusual circumstances" and the other in an accident.
Scottish and Southern Energy said it had notified the authorities as soon as the kite was found.