Barnsley Council's £40m cuts lead to job fears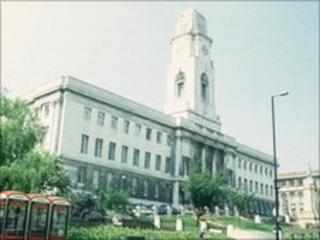 Barnsley Council has said it must make up to £40m in savings over the next four years, leading to fears that hundreds of jobs will be lost.
Council leader Steve Houghton could not confirm how many posts may be affected, but acknowledged the cuts would have a serious effect on employment.
He said the cuts were compounded by rising inflation and an increased demand for services.
The Unison union said it believed up to 2,000 jobs could go.
Mr Houghton told BBC Radio Sheffield that the private sector, which relies on some contracts from the council, was also likely to be affected by the cuts, and that the region's economy was in line for a "battering".
"There are more people demanding services and inflation, which is running at 3 to 4% now, says the cost of those goods and services rises year on year," he added.
"Somehow we have not only got to meet that, we have got to cut our budgets in real terms every year, for the next four years."
Ray Oldroyd, branch secretary of Unison, said: "We really fear for the future of the town and our members and for the communities in the area.
"Cuts on this scale will mean devastation for a town like Barnsley."