England fans 'well behaved' in South Africa, police say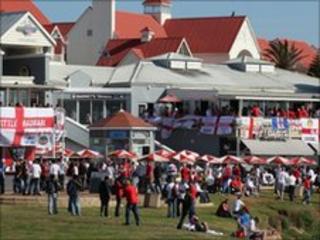 British police in South Africa have praised England fans for their good behaviour during the World Cup, with only one football-related arrest.
Pavlos Joseph, 32, from London, is accused of entering England's dressing room after the Algeria match.
Assistant Chief Constable Andy Holt said that the travelling fans had "done their country proud".
But he warned there may be "more tension" in the match against Germany on Sunday.
Mr Holt, who is leading a team of 12 UK officers in South Africa, said he had never experienced a more friendly atmosphere and to have only one arrest at this stage of the competition was "unusual".
He said a "combination of factors" had had an impact, including 3,000 football banning orders.
Long way
But he said the type of fans who had travelled, who were generally older and had come with families, was a big factor.
"It's a long way to come. People have spent a lot of money. The fans that are here are the genuine article. They have saved and worked hard to get here.
"I think it's credit to the England supporters who have come out here determined to have a good time. But it's also credit to our South African colleagues who have done everything they possible can to make people feel welcome," he said.
It is a view shared by Mark Perryman, a spokesman for England fans, who said the reception fans had received in South Africa had been "extraordinary".
"When we got off the plane, people were dancing, it was spontaneous, and from that moment on, everywhere we've been - from townships to the host cities - people have been really friendly.
"It's been informal and relaxed, with music playing. There's a very visible police presence too, but I haven't seen any incidents where they've been needed," he said.
Mr Holt said it was very different circumstances in Germany four years ago.
Then, 828 out of the 8,935 fans that were detained or arrested were English, according to the Association of Chief Police Officers (Acpo).
"[Germany] was closer to home, so it was easier for people to come out on a whim, perhaps without tickets, just to take part in the atmosphere around the competition.
"And therefore you saw significantly more arrests and significantly more disorder," Mr Holt said.
He warned that the game against Germany on Sunday had the "most potential to cause problems".
"It's the start of the knockout competition and there is some traditional enmity between England supporters and German supporters.
"We are aware of all those factors and we will be working very hard in Bloemfontein on Sunday to ensure we enjoy a fourth trouble-free enjoyable fixture."
But he said the outcome would depend on the behaviour of both sets of supporters.
"I think if they can relax as they have done in the previous fixtures we will have an enjoyable time in Bloemfontein.
"And I'm sure with the right support from the England fans the team can go on and get a victory over the Germans," he said.