Devon author Michael Jecks suggests 15p library fee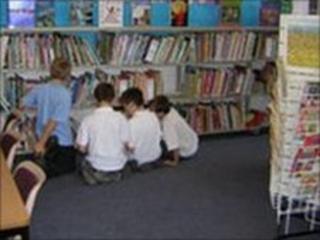 Library services should not be free for everyone, a Devon author has said.
Michael Jecks, who writes medieval crime fiction, said those who can afford to should pay about 15p each time they get out a book.
He said free access to libaries should only be available for people on benefits.
However, Stuart Barker, the councillor responsible for the service in Devon, said libraries were a lifeline for many people.
The cost of running libraries across Devon is an estimated £16m, according to Devon, Torbay and Plymouth councils.
In May, Devon County Council said it was introducing a scheme to give newborn babies a "timeless" library membership to help children develop language and listening skills.
Mr Jecks, who lives near Dartmoor and sets many of his books in Devon, said if action was not taken, spending cuts imposed on local government would adversely affect the library service.
"It doesn't matter whether it's this government or past governments, they've all been trying reduce spending on libraries," he told BBC News.
"Now they're going to be cutting a lot more heavily, probably to the number of staff, books and computers."
'Social gathering'
He said, with the exception of people under the age of 18 and those on means-tested benefits, most people could afford to pay.
"This is just a small contribution towards helping with the cost of running the public lending right.
"What I'd be thinking of is about 15p for book rental - it's not the sort of amount which is going to break anybody's bank."
Mr Baker told BBC News he disagreed with the author's views.
"At the end of the day libraries are very often one of the few services that people get for the council tax they pay," he said.
"Especially in a rural area, the library is a social gathering place for people who go there to relax."