Ulley dam reopens three years after floods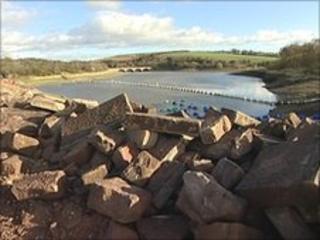 Repairs to a dam wall which almost burst in the 2007 floods in South Yorkshire have been officially finished on the third anniversary of the deluge.
Hundreds of people in nearby villages fled their homes when cracks appeared at Ulley dam near Rotherham, after torrential rain on 25 June, 2007.
Engineering works, including a new overflow system, began in October 2007 and were completed at a cost of £3.8m.
The work was carried out by consultants Ove Arup for Rotherham Borough Council.
A new spillway has replaced the original overflow structure, which collapsed during the floods, leaving the Victorian earth-embankment dam wall in danger of failure.
At the time Rotherham council used 2,600 tonnes of limestone to shore up the dam wall to make it safe on a temporary basis.
An inspection report then detailed the measures the council had to carry out to meet safety standards.
'Innovative project'
The council gave the go-ahead to carry out the repairs rather than drain the reservoir to ensure that the surrounding Ulley Country Park would continue to be a popular spot with walkers, anglers and sailors when it reopens later this year.
Councillor Gerald Smith said: "This has been a major engineering project requiring innovative solutions, which have also had to meet stringent national standards.
"Now the work is complete we can look forward to eventually reopening the country park to visitors later in the year."
Ulley Country Park will not reopen until the 35-acre reservoir has refilled and water levels are high enough to cover exposed quarry workings and the steep-sided and silt-covered embankments.
The timescale will depend on the amount of rainfall over the summer months, the council said.