When Prince Charles talked tents with Danny Morrison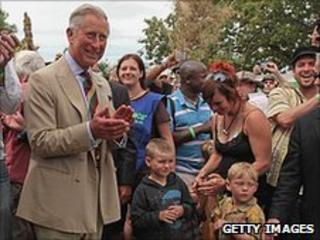 It was a strange meeting.
The Prince of Wales met Sinn Fein's former director of publicity Danny Morrison in a field in Glastonbury on Thursday and asked how the camping was going.
Did Prince Charles know who he was talking to?
It is 40 years since the first festival was held in Somerset.
It is 40 years since the Troubles first dominated the news in Northern Ireland.
During the Troubles, Morrison was the man forever linked to the republican slogan that they would move forward "with the armalite in one hand and the ballot box in the other".
Thirty years later, in the Greenpeace field in Glastonbury he talked tents with the heir to the throne.
Mr Morrison, a writer, has been a regular at Glastonbury for the past 10 years.
"Yesterday when we were up at the green field, there was a whole bustle, I saw a BBC camera crew and people thought Bono was arriving," he said.
"When we got up it was Prince Charles... He was the only person out of quarter of a million wearing a shirt and tie.
"He asked myself and my brother Ciaran did we actually camp out for three days. We come for about six days. He was very personable."
In a radio interview for BBC NI's Good Morning Ulster, Mr Morrison added: "I had no problem with him. There is a line drawn through the past."
Prince Charles made a brief appearance on the famous Pyramid Stage during his visit.
Organiser Michael Eavis said his event had "finally got the royal seal of approval" on its 40th anniversary.
Fine weather is predicted for the weekend, which will see headline sets from Gorillaz, Muse and Stevie Wonder.
U2 had to cancel after Bono hurt his back at a festival in Germany.
As well as being the 40th anniversary of the first festival, when 1,000 hippies watched Marc Bolan on Michael Eavis' dairy farm, it is also 20 years since one of the festival's darkest days.
A royal visit would have seemed inconceivable in 1990, when clashes between travellers and festival security teams resulted in 235 arrests and £50,000 of damage, and put the festival's future in jeopardy.