'No value' in Taggart Homes helicopter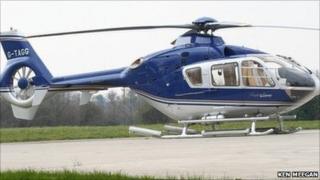 The administrator of the collapsed Taggart group had difficulty selling the company's helicopter partially because its engines were damaged.
The Taggart's property empire, which was run by brothers Michael and John Taggart, was placed into administration in October 2008 with debts of up to £300m.
Michael Taggart used the helicopter to travel between development sites.
Mr Taggart said that the aircraft had been in perfect working condition when it was given to a third party in 2008.
He said he had given it to brokers, who were going to sell it, and had no knowledge of any problem it had subsequently acquired.
In an interview with the BBC earlier this year, Mr Taggart said the helicopter had been the most practical mode of transport for his business but that he did not enjoy the flights.
"I hate the things and apart from one trip to the Galway Races, I hardly ever remember using it for pleasure," he said.
The twin-engined Eurocopter EC 135 was bought with a loan from Bank of Scotland (Ireland) and was owned by one of the Taggart companies, Taggart Homes.
'Depressed conditions'
The bank was still owed £2.1m of that loan when the firm went into administration.
The administrator at financial consultancy PwC had initially been hopeful he could get some of that money back.
However in his latest progress report, filed recently at Companies House, he stated "recovery of any equity value is increasingly unlikely."
A key problem was that the engines were damaged and the bank will have to pay for the repairs.
The administrator also noted that "depressed conditions in the aircraft market" will also not help matters.
The BBC understands the helicopter has since been sold back to the bank who are pursuing an insurance claim in relation to the damaged engines.
The aircraft is also understood to be in negative equity, in other words it is worth less than the loans secured against it.
Other details in the administrators report, which covers the period from October 2009 to April 2010, show that he was able to sell Taggart's former headquarters building at Clarendon Dock in Belfast for just over £2m, shortly after the administration began.
He has also been able to sell a house in Ballycarry but noted that "volatility" in the housing market had caused difficulties in completing the sales of apartments at three developments in Eccles, Greater Manchester.
Michael Taggart is now working with a new company, Tailored Property Development Solutions, which is building houses in the Irish Republic.