Weston-super-Mare pavilion owners take control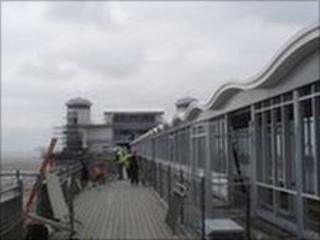 A major moment in the construction of Weston-super-Mare's new pavilion has taken place.
The company behind the building work handed over control of the inside of the pavilion to the owners earlier.
In 2008, the old pavilion was destroyed in a huge fire at the Grand Pier, thought to been caused by an electrical fault.
It is hoped the new attraction will open at the seaside resort in the next few weeks.
The work on the pavilion was carried out by building contractors John Sisk and Son.
The showpiece observation tower is due to go up next year.
'Bigger and better'
Kerry Michael, who co-owns the pier with his sister Michelle, told the BBC: "After the fire, we felt responsible really - we were the custodians and the fire happened on our watch. There was never any doubt in my mind what we had to do.
"We couldn't put back what was there so we thought that this might be a bit bigger and a bit better and that's what we've tried to achieve.
"You can't refer to it as just another building, it is the landmark of the town.
"Certainly when we get get the tower up next year as well it will be an even more significant landmark."
He said the pier would have traditional rides such as dodgems and a ghost train. Gravitron, based in Stroud, Gloucestershire, won a contract to supply eight rides and doubled its workforce as a result.
Mr Michael added: "We've gone a step further and what we've tried to create is almost an indoor theme park with 14 major rides.
"If it works it might be a model that we can take elsewhere."
Before the fire more than three million day-trippers visited the pier each year.