'Anti-gang' noise device ban bid under human rights law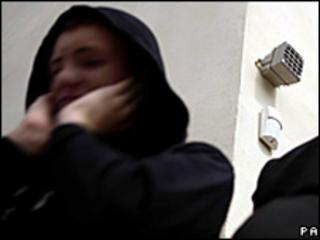 A device that uses a high pitched irritating noise to disperse teenage gangs should be banned in the UK, according to a report for the Council of Europe.
It said the Mosquito, which is audible only to young people, may breach human rights law.
It has been installed at 3,500 sites, including shops, in the UK.
Its inventor Howard Stapleton, from south Wales, said he wants better legislation for it.
The Mosquito sends out a pulsing high frequency noise which can usually only be heard by teenagers and those in their early 20s, causing them discomfort.
The device can be turned on when its owner wants to disperse groups of young people.
The report by the committee on culture, science and education at the Council of Europe says the gadget is "highly offensive", could breach human rights, such as the rights to private life, and potentially discriminates against children.
It claims that because it inflicts "acoustic pain", it treats young people as if they are "unwanted pests" and may constitute degrading treatment.
Furthermore, it says, the effect of the high-frequency sound on children, including babies and unborn infants, has not been fully researched.
Cecilia Keaveney, an Irish senator and chair of the Council of Europe's sub-committee on youth and sport, which first flagged up the issue, said the Mosquito discriminates against the majority of young people who are well behaved.
"Everyone's been treated as a criminal, somebody that's committed some sort of crime and they're being punished for it," she said.
But Mr Stapleton, from Merthyr Tydfil, who came up with the idea for the device when his teenage daughter was targeted by a gang outside a local shop, said the device had transformed many lives blighted by anti-social behaviour.
'A shame'
He admitted, however, that he wanted to see tighter controls over their use and that it was "unnecessary" to have them turned on all the time.
"I have been campaigning very hard for legislation to be brought forward because I would much prefer my device to be used and controlled by the local police," he said.
"It would be a very simple exercise in installing a CCTV camera that would report through to a control station.
"Members of the public could phone in to say there was a problem with anti-social behaviour.
"The police control room could then view the area and then make an informed decision under strict guidelines whether or not my device should be used.
"But the more campaigning I do, the more MPs I speak to, the more organisations I speak to, unfortunately I just don't seem to get anywhere.
"It would be a shame to completely ban the device."
He added that initially his device was used by police forces and local councils until "they became concerned when people began saying they breached human rights."
The Mosquito has been installed at more than 3,500 sites across the UK - compared to 5,000 across Europe as a whole - since it first went on sale in January 2006.
The Council of Europe has 47 member states and works towards European integration.