Farnham Castle keep reopened after restoration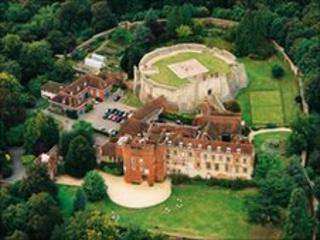 One of the South East's most important historical buildings is being reopened to the public after a near-£1m restoration project.
Farnham Castle's 12th Century keep was originally a motte and bailey structure built as a defence for the home of the bishops of Winchester.
The present keep encloses a mound containing the foundations of the Norman tower, with a well below.
Visitors will now be able to visit the keep free for 300 days every year.
It was previously open for only 80 days, and an admission fee was charged.
The restoration has taken place with the help of a £700,000 grant from the Heritage Lottery Fund.
'Fascinating insight'
"We are delighted to see the restoration of the keep complete - a sensitive project that that has clearly improved access and opened up this wonderful asset," said Mark Pemberton, director of properties for English Heritage.
"Farnham Castle offers a fascinating insight to our medieval past."
Previously, the keep was managed by English Heritage and the Bishop's Palace by the Farnham Castle charity, but now the castle charity will run both sites.
The restoration included the removal of over 200 tonnes of concrete to reveal the historic fabric of the tower and the creation of an oak framed pavilion, staircase and illuminated viewing platform over the tower and well.
The site has spectacular views over Farnham.
Friday's opening ceremony is being performed by Culture Secretary Jeremy Hunt, MP for South West Surrey, with the public being admitted from Monday.