'No plans' to try to change Budget, say Lib Dems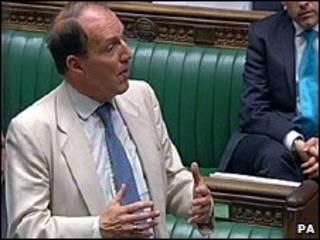 The Lib Dems have played down a threat by deputy leader Simon Hughes to table amendments to the coalition's Budget.
Mr Hughes warned MPs the coalition government could break up if benefits for pensioners agreed by the Tories were not enacted.
The party issued a statement saying there were "no plans" to amend the Budget and Mr Hughes had been referring to a "hypothetical situation".
Some Lib Dem backbenchers are unhappy with Budget cuts and tax increases.
Lib Dem leader Nick Clegg has denied the financial statement - which raises VAT to 20% and cuts benefits - is "regressive".
He told the BBC: "The top earners make a much bigger contribution than anybody else."
Welfare savings
But the respected economic think tank the Institute for Fiscal Studies has said "progressive" reforms in the Budget had largely been announced by the previous Labour government and the new tax and benefit changes were "regressive overall".
Labour has attacked the Lib Dems for supporting the Budget - particularly when they specifically campaigned against raising VAT, although none of the three main parties ruled it out before the election.
Chancellor George Osborne has also said that projected 25% cuts in departmental spending could be reduced, if further savings are found in the welfare budget.
He has already announced £11bn of savings including cuts to housing benefit and a freeze in child benefit, in an effort to reduce the £155bn deficit.
In a Commons debate on Thursday, Mr Hughes said there had been speculation in the press that "expensive" measures like the pensioners' freedom pass for travel and winter fuel allowance might be axed.
Amendments
He told MPs: "I say clearly to my friends, there's no issue between us, but the coalition deal is a deal and what has been agreed must stand - and there cannot be any unpicking of items in that deal, otherwise the whole thing risks falling apart.
"There's no suggestion from the government that's been the case. There are suggestions out there that there will be changes. But the deal has to be that we go down the committed road - we signed up and the Conservatives signed up, all compromising where appropriate - and that must stand.
"If there's any suggestion that it changes, there clearly would be trouble."
He also said if there were "measures in the Finance Bill [which brings the Budget into law] where we can improve fairness, and make for a fairer Britain, then we will come forward with amendments to do that because that is where we make the difference".
Later a Lib Dem spokesman said there were "no plans" to come forward with amendments to the Finance Bill.
He said: "Simon Hughes made it clear in his speech that there would be no unpicking of the coalition deal.
"His speech was about how both parties in the coalition would continue to do everything they could to ensure fairness.
"He was referring to a hypothetical situation. Given that fairness has been built into the Budget there are no plans to lay any amendments."
Mr Hughes also said later he was happy to "clarify my words" adding: "If there are other ways of improving fairness in the future, compatible with the coalition agreement, these should never be ruled out. But of course there are not any plans to change things now."
But shadow treasury minister Angela Eagle said Labour would cast a "sympathetic eye" over any amendments tabled by the Liberal Democrats.
She told Mr Hughes if he wished to stop the "betrayal" of Lib Dem principles, he must put the amendments down and get his colleagues to join with Labour "to stop this Conservative-led Budget doing even more damage than it's going to do".
There is thought to be unhappiness among some Lib Dem backbenchers at the VAT increase. Colchester MP Bob Russell warned he was considering voting against it, as he had campaigned against it on the doorstep during the general election.