RNLI called to 4,500 incidents in Cornwall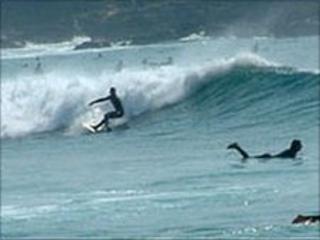 The RNLI had its busiest season ever in Cornwall in 2009, with lifeboat crews responding to more than 4,500 incidents, the charity has said.
A total 5,279 people were aided or rescued by county lifeboat crews.
The Carrick area saw the most incidents - with more than 1,400 incidents and more than 1,600 people helped.
About two thirds of the callouts involved children, while body boarding, swimming and surfing were the top three activities requiring assistance.
The charity said it was launching new safety guides ahead of the main holiday season.
It said it was urging people, whether on a day trip to the beach or at the coast for a holiday, to find out more about how to stay safe at the beach by requesting a free copy of its guide, On the Beach.
It has also launched a new guide to surf sport safety called In the Surf, which is aimed at surfers, windsurfers, kayakers, canoeists, kite-surfers and paddle boarders.