Whitehaven Festival to start despite fatal shootings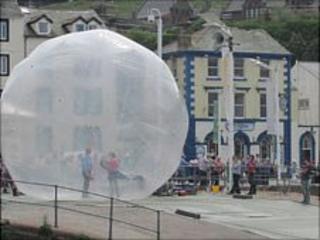 The Whitehaven Festival is due to get under way as planned after organisers decided not to let the west Cumbria shootings disrupt the event.
Thousands of people are expected to attend over the weekend, and the line-up includes opera star Katherine Jenkins, Status Quo and N-Dubz.
One of the organisers of the annual event described it as a chance to show people a different face to the town.
A tribute to the victims will be read out on Saturday evening.
Gunman Derrick Bird killed 12 people during a rampage through west Cumbria on 2 June.
One of the victims was a colleague, shot at the Duke Street taxi rank in the town.
'Stand together'
Colin Edgar, editor of the Whitehaven News and one of the festival organisers, said the event had come close to being cancelled.
"I think it was on the cards," he said.
"After 2 June it seemed indecent even to think about the festival, and the company suspended advertising for a short spell.
"It was the local church leaders who started to say 'well perhaps it could really help in the healing process', and that kind of spurred our efforts on further.
"It's a way of pulling the community together, saying we all stand together. We've had bad times, but we know how to have good times too."
Another man behind the event, Whitehaven businessman Gerard Richardson, added: "It's a chance to show people a different face to Whitehaven and west Cumbria."
The festival will open with a musician in a giant floating ball.