Bursting water pipes in Herne Bay to be replaced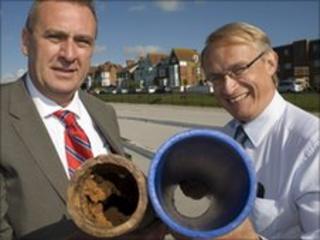 Water pipes laid in a Kent seaside town more than 80 years ago are to be replaced in a £1m programme of work which will take a year to complete.
Some three miles (5km) of cast iron pipes in Herne Bay are to be replaced with plastic less prone to bursts.
South East Water said the old pipes had reached the end of their life. Sudden bursts were causing interruption to water supplies and traffic disruption.
"Some of them are starting to show their age," said spokesman Graham Webb.
"We have been carefully planning how we can replace these pipes and cause minimal disruption."
South East Water is to write to affected residents to explain how long workmen will be in their streets.
"We would like to apologise for any inconvenience our work in Herne Bay causes, but we hope this short-term pain will be for a long-term gain as we secure drinking water supplies," said Mr Webb.